Leyland Group carol service
St James Parish Church Leyland was once more chosen to be the host for the Leyland Group carol service. Proving popular, there was a good turnout of group members, along with their wives, partners and a good number of friends and family. The service was once more lead by the Rev Marc Wolverson, who was very accommodating towards the group.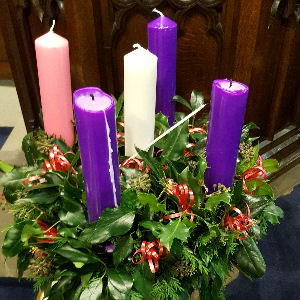 Marc opened the service with a few words of welcome to St James Church, which was followed by the introit hymn of 'Once in Royal David's City'. He was appreciative of the congregation and exclaimed that their array of colours would brighten anyone's day – the Provincial Grand Master Tony Harrison had given permission for the brethren to wear Masonic regalia if they wished to and most of the members who attended the service wore theirs with pride.
The service was, as in previous years, based on nine readings, with a carol to signify each of the readings. Mark Humphrey WM of White Hills Lodge No 5209, got the proceedings underway with the first reading, which was followed by the hymn 'Hark the Herald Angels Sing'. This was followed by Ian Hainsworth, WM of Cuerden Lodge No 6018, Phil Monks WM of Longton Lodge No 6237, David Coulson WM of De Bon Cuer Lodge No 6984, Eric Nixon WM of Farington Lodge No 7277, Phil Ashton WM of Leyland St Andrews Lodge No 7391, Kevin Byrne first principal of Carnarvon Chapter No 2376 and Jim Hustler first principal of Old Worden Chapter No 5366. Each reading being followed by classic hymns including 'The First Nowell', 'O Little Town of Bethlehem', 'The Holly and the Ivy', 'Away in a Manger' and 'O come, all ye faithful'.
During the service a collection was taken by the congregation, which would be applied to the St James Church fund. Marc thanked the Leyland Group for their very generous donation and said that it will be put to good use for the upkeep of the church.
The Leyland Group Chairman Chris Blackwell took to the lectern and addressed the congregation with a few words of thanks. He included Father Marc for allowing the Leyland Group to make use of St James Church once more, along with its facilities and of course to Marc himself for presiding over the service, even though he was struggling with a heavy cold. Other church members were thanked for volunteering to assist in ensuring the service went ahead, with special thanks once more going to the group secretary Dave Bishop, for his organisation of the event. Chris went on to say that he was more than pleased to see Assistant Provincial Grand Master Stewart Seddon in the congregation and thanked him for taking time out from his busy schedule to join in with the festivities.
In closing his speech, Chris and on behalf of his wife Jane, wished everyone a wonderful Christmas and hoped that they would enter 2019 in good spirit and have a healthy year ahead.
Father Marc closed the service and invited everyone to pop along to the school next door, where mince pies, tea and coffee were served. This everyone did and it made for good fellowship and great conversation. Special thanks go to 'Tea Ladies' Sharon and Lucy Bishop for making and serving the tea, coffee and mince pies to all.